Support local farms

Reject factory-farmed meat

Eat fewer animal products – Try Meatless Mondays!

Learn more about food labels

Get Involved – Volunteer
Contact your legislators

Contact grocers and restaurants

Talk to people about the issues

Share information on social media

Host screenings of documentaries like Food Inc., Cowspiracy, At the Fork, Eating Animals
As an animal lover, you know that there's really no difference between cruelty inflicted on a dog, cat, horse, chicken, or a pig. It's all wrong. Below are some ways that you can help make the voice for farmed animals louder.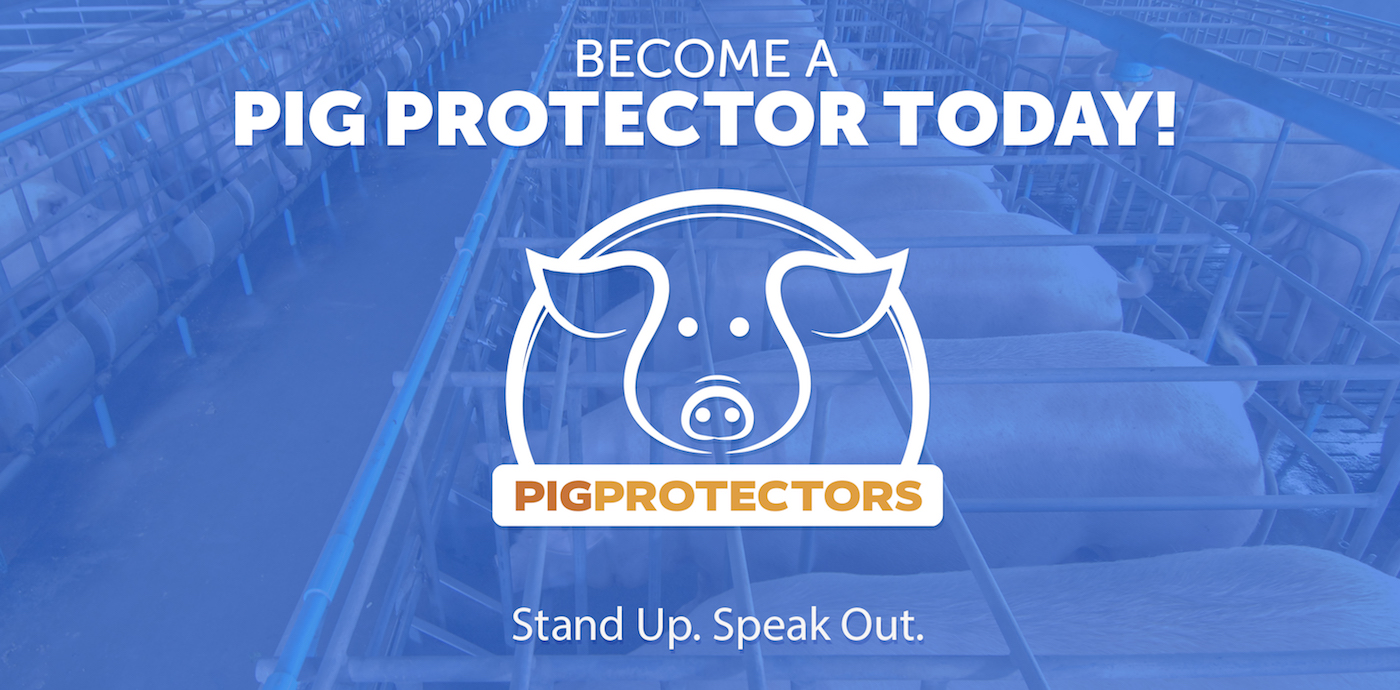 Join other online activists who are helping to end this cruel practice.  Spending just a few minutes a month can help end a lifetime of confinement  for millions of pigs.
Receive weekly emails with quick actions such as emailing, calling, and posting on social media.
Understand Terms and Labels
Source from local and humane farms
Factory farmers are eager to advertise their advancements in things like nutrition, technology, and livestock management. Yet most consumers agree: This is no substitute for humane animal stewardship.
•  Download our FREE app: "The Illinois Guide to Factory Free Meat, Dairy & Eggs." It maps out farms, markets, & restaurants which source humanely.

On

iTunes

On

Google Play
Reference these lists of brands and companies who have high animal welfare standards.
Reduce Meat Consumption
Go Plant-Based or Cut Down Meat Intake
Reducing meat intake has been proven to:
Positively impact personal health by reducing heart disease and stroke, minimizing cancer risk, fighting diabetes, combating obesity, and increasing longevity of life.
Save household money, not only on the weekly grocery bill, but overall healthcare spending as well.
Help save the planet, by minimizing water usage, reducing greenhouse gases, and reducing fossil fuel dependence. A vegetarian diet consumes 58% less water than a traditional omnivorous diet, while a vegan diet reduces indirect water consumption by 600 gallons per day per person.
Create economic demand for more fresh fruits and vegetables from local farms, as well as meat alternatives at the marketplace.
SAVE THE ANIMALS. If every American participated in meatless Mondays, 1.4 BILLION fewer animals would be raised and slaughtered for food in the US alone.
What are you waiting for!?
Make Meatless Monday part of your eating lifestyle
It doesn't have to be all or nothing; by cutting back on how much meat you consume on a weekly basis, you can explore plant-based options and bring awareness to the exorbitant amount of meat we consume as a society. Meatless Monday is a global movement with a simple message: one day a week, cut the meat. The goal of this movement is to reduce meat consumption by 15% for our personal health and the health of the planet. Now entering its second decade, Meatless Monday is embraced in over 40 countries, in over 20 languages, demonstrating the universal appeal of an idea that is simple to understand and easy to do.
Follow groups we collaborate with to make an even bigger difference
It's time for Aldi to do the right thing.