Crate Free Illinois is partnering with The Humane League for a fundraiser and documentary screening of the film, Eating Animals narrated by Natalie Portman.
We'd love for you to join us.
Reduce Farm Animal Suffering in Illinois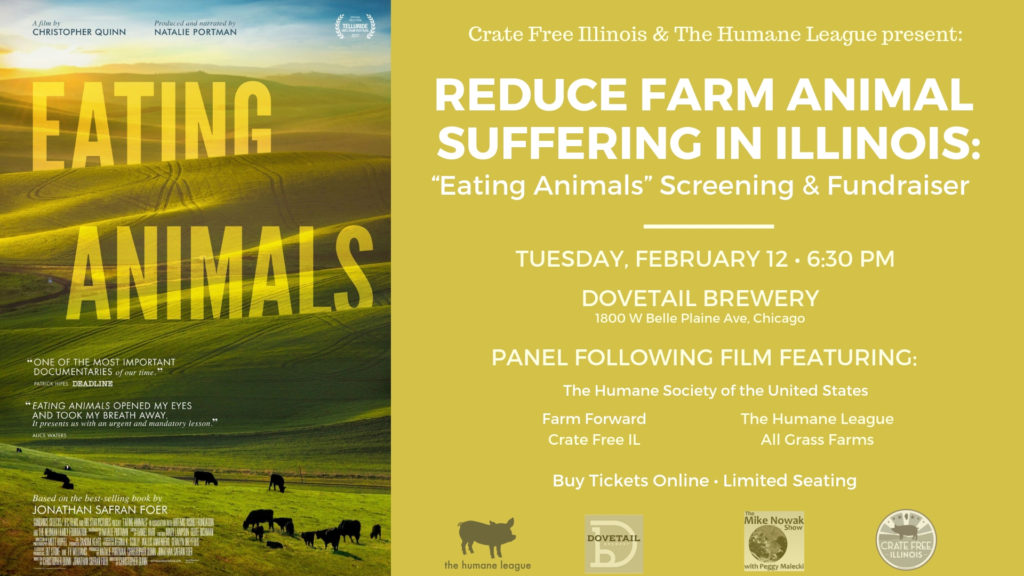 We all love our pets — our cats and dogs — but what about farmed animals? All animals just want to be safe, secure, and lead a natural life.  But sadly, factory farm animals are the MOST exploited and LEAST protected in Illinois and around the world.
We CAN make a difference for the millions of animals raised for food on factory farms in Illinois. Are you with us?
Crate Free Illinois and The Humane League present:
Reduce Farm Animal Suffering in Illinois:  "Eating Animals" Screening & Fundraiser
A feature length Sundance film, narrated and produced by Natalie Portman
Followed by an important panel discussion on farm animal welfare plus a raffle!  
WHEN: Tuesday, February 12, 2019, 6:30 to 9:30 PM
WHERE: Dovetail Brewery, 1800 W Belle Plaine Ave, Chicago, IL 60613
Food provided by local restaurants including:
» Chicago Diner
» IDOF (I Dream of Falafel)
» Dimo's Pizza
» Ste. Martaen
…and burgers from Beyond Meat.
PLUS cash bar featuring craft brews from Dovetail Brewery
Composting provided by Urban Canopy
Free parking lot on west side of building (first come first served)
Near CTA Brown Line and UP-N Metra stops
TICKETS: $25 donation* in advance; $30 at the door

Your donation will be used to support Crate Free Illinois and matched by our benefactor
Eating Animals Screening
Over the past 40 years, factory farms have polluted our environment, endangered our health, forced family farmers out of business, and caused us all to be complicit in the inhumane treatment of animals. Eating Animals tells the story of the beginning of the end of factory farming and helps us picture a future where traditional farming is no longer a distant memory, but instead is an important part of the solution to fix our broken farming system.  
Watch the Eating Animals trailer
Farm Animal Welfare Panel
After the movie, participate in a discussion on farm animal welfare with local advocates and a "real" farmer. This informative panel will be hosted by Chicago radio personality, Bill Turck.
Why Should You Care?
Our state is the third largest pork producer in the country. We're home to millions of mother pigs that churn out the piglets that grow into food for over 12 million people in Illinois, as well as for consumers around the world.
The vast majority of animals raised on factory farms  — pigs, chickens, cows, and lambs — lead lives of unrelenting misery. Not only do they suffer extreme confinement, they are deprived of basic necessities. They're bred to grow way too quickly to unnatural weights. Even mutilation is routine.  
Just how bad is it for a mother pig on a factory farm?
Imagine spending most of your life strapped into an airplane seat.
That's how bad.
Pigs are one of the most intelligent animal species on the planet. In their natural environment, they are sociable, playful, and thrive on the companionship of other pigs.  In contrast, a mother pig on a factory farm spends her entire pregnancy in a gestation crate – an area so small she can't even turn around. As she grows larger, the space becomes even more  confining so that she can no longer lay on her side. Just before she delivers, she is moved to a farrowing crate, another confined area where there is just enough space to nurse. Once her piglets are weaned, it's back to the gestation crate for another pregnancy, year after year, until she is slaughtered.  
The best day in the life of an animal on a factory farm is the day it is finally over.
How can you help?
This doesn't have to be all or nothing. It's about making more humane food choices. It's about holding every grocery store, restaurant, and farmer accountable to humane animal welfare practices. It's about our grassroots activism.

Our event is brought to you by The Humane League and Crate Free Illinois
Thanks to our sponsors, Dovetail Brewery and the The Mike Nowak Show.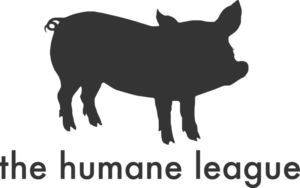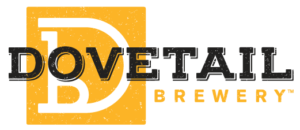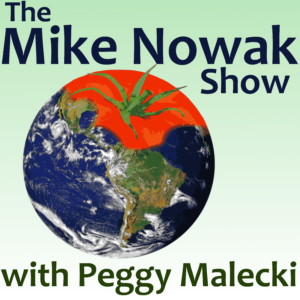 Author bio:  Lisa Lubin is an Emmy-award winning video consultant, producer, travel writer and photographer. She's a life-long animal lover from New Jersey who's been living in Chicago for 20+ years. Lisa has also volunteered PAWS and Feline Friends Chicago as a cat foster. She joined the Crate Free Illinois team in August 2016 and is now the executive director, website editor, and volunteer coordinator.  
*Crate Free Illinois is a not-for-profit 501(c)(3) corporation. All donations are used to support our work to  educate consumers about the extreme confinement of animals on industrialized farms, support local sustainable farmers, and work for better treatment of farm animals.