Living in a society that normalizes the exploitation of farm animals, Crate Free Illinois strongly believes that education is the best way to encourage positive change and critical thinking. Without challenging the rooted mindsets that believe animal factories are a necessary byproduct of today's modern era, one cannot successfully achieve a world that values the care and compassion of farm animals.
Educating Our Next Generation
Recently, Crate Free Illinois had the opportunity to share our message with children in the Chicagoland area. DuPage County Animal Services is a local animal control and shelter operation that hosts several summer camps throughout June, July, and August. Their "Animal Advocates" program, in particular, ran from June 17 – 19 and focused on educating 11-13 year-olds in ways they can be positive role models in the animal welfare community.
For the first year ever, Animal Advocates included a lesson in humane farming, and Crate Free Illinois was honored to be a part of it.
David Ouelette, an animal welfare advocate and one of our dedicated volunteers, led the children in an engaging presentation on how they can contribute to bettering the lives of farm animals. With eyes wide open, the kids learned the realities of where the majority of their animal products come from.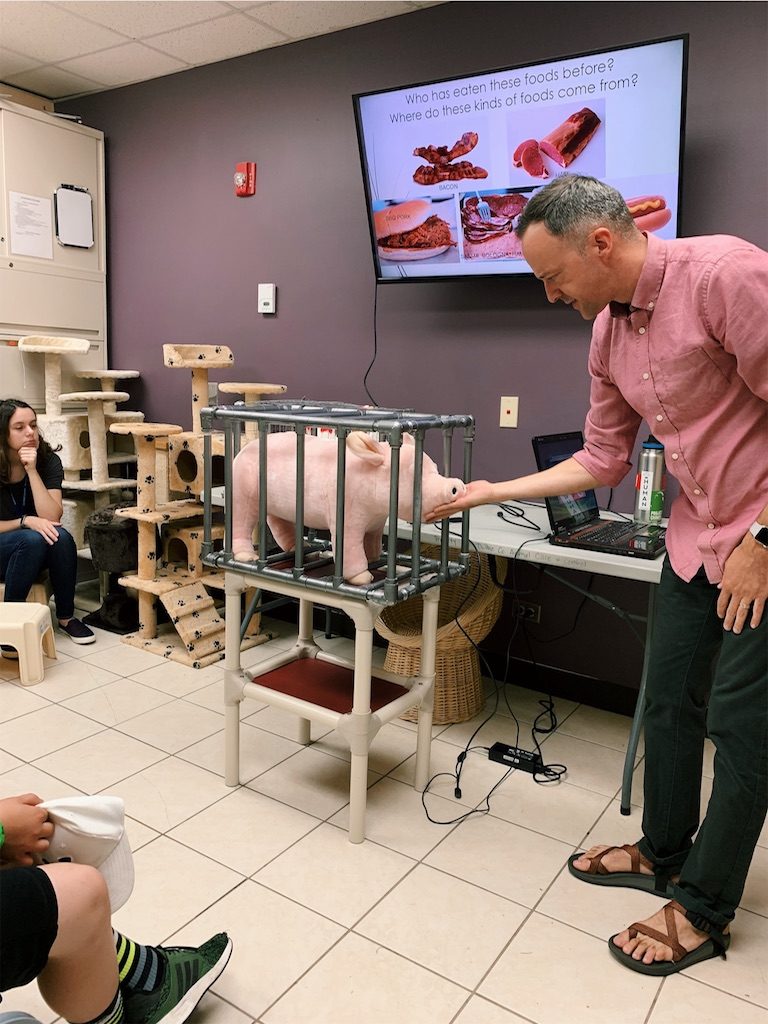 David discussed each of the main industries — dairy, poultry, beef, and pork — and explained what the animals' daily lives look like in those types of animal factories. While a few campers seemed to have some prior knowledge of farm animal cruelty, the majority were very saddened and frustrated to learn of the heinous conditions that food animals are forced to endure.
Our main goal of the presentation was to simply shed light upon the animal factory reality in which we live. The root focus of humane education is forming the connection between the food on our plates and the truth behind where it came from.
When children see Mom come home from the grocery store, they see rotisserie chicken, but not a dirty caged bird. When Dad grills hot dogs, they see only see a tasty lunch — not a part of an intelligent animal who was never able to feel grass beneath their feet. David did a wonderful job of helping the campers build a mental bridge between the horrors of animal factories and the food inside their fridges. Sadly, for some of the children, it was apparent that gestation crates, battery cages, and veal crates were all realities in which they have never been aware of.
Encouraging Animal Advocacy for Farm Animals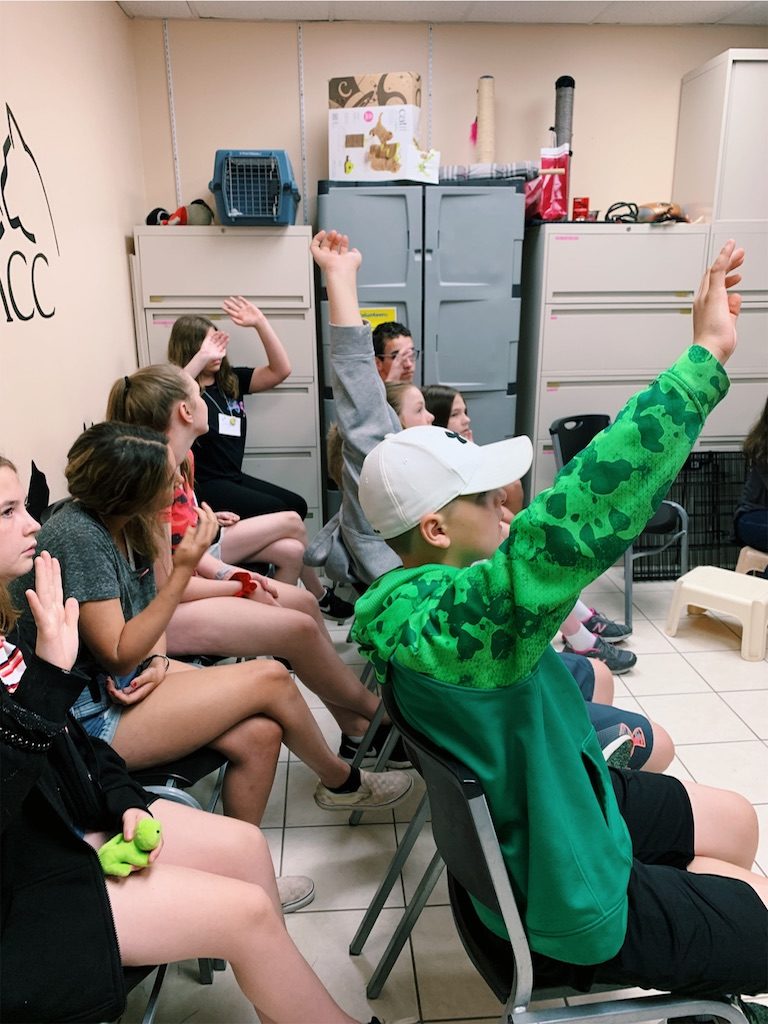 Other than share what takes place in factory farms, David also voiced a call for action. Crate Free Illinois believes that no age is too young to support animal welfare by making informed decisions. After teaching campers the cruelties of animal factories, David explained to the campers that they, themselves, had many options in which they could make a difference — reducing meat intake, following a plant-based diet, and encouraging their families to buy humane products were all among them.
Mainly, what we wanted the campers to take away was that although the majority of animal products come from these cruel factories, both farmers and consumers do not have to follow in these horrible footsteps. David explained that there still are humane farmers who allow their animals to live the lives that we wish for them — access to outdoors, free space to roam, and treated with love and care. All we have to do is make the decision to support these respected, traditional farmers by choosing to purchase certified humane products or buying directly from farmers themselves.
David went over the types of humane labels that the campers should look out for next time they're at the grocery store, and encourage their families to buy certified humane products if they choose to consume meat, dairy, or eggs. Each camper displayed an eagerness to carry these words home with them and make a difference in the decisions their families make.
How You Can Help Build Future Humane Generations
If there is anything we want to express, it would be that we can all contribute to fostering care and compassion for farm animals within our youth. We challenge you to take these steps to help us build a bridge to a more ethical, sustainable future:
Talk to your kids. If your family consumes animal products, please educate your children on where their food comes from so they can build the connection between their meals and the living, breathing animals in which they came from. The earlier children understand the sacrifice it took to provide them with a meal, the more likely they will be in the future to develop a respect for food animals and be motivated to support humane farmers.
Buy Certified Humane Products. Please provide your family with food products from humane farms. Parents are an important role model for children, and by practicing what you preach, this provides them with a positive example of a way they can support the welfare of food animals in the future.
Yes – have the difficult conversation. Many parents often wonder if they should tell their kids the truth behind factory farms and where their food is sourced. This conversation should not be difficult if the the meals you feed your family are from humane farms. In fact, you should be proud to explain that although most products come from factories, you choose to go the extra step to ensure they are given humane, quality food. Only those who do not consider the sources of their food should be the ones uneasy with this conversation — imagine telling your children the horrors of animal factories, then serving the cruelty on a plate. This is an important conversation, because it not only educates kids about the realities of industrial farming, but it also holds you accountable to provide them with food in which you know they would feel safe and more comfortable to eat.
Overall, we at Crate Free Illinois believe that our youth is an important asset in improving the lives of food animals. Teaching children the value in supporting local farmers from an early age and speaking out against animal factories is a key factor in humane education. We are excited to share this journey with you and appreciate your decision to support humane farms. With your help, anything is possible!
Author bio:
Emma Balinski is a third-year bio-engineering student who is committed to bettering the lives of all animals. She has previous internship experience at DuPage County Animal Services and now enjoys volunteering there in her spare time. Outside of school, Emma has strong interests in nutrition, fitness, and can often be found hiking with her two year-old rescue dog, Romeo.