Last spring, The Humane League and other large animal protection organizations like Mercy for Animals and Animal Equality launched a campaign urging McDonald's to address issues with the chickens it buys from its suppliers and then sells to McDonald's customers. We recently, partnered with The Humane League Chicago for our recent fundraiser and screening of Eating Animals.
We are also helping with this very important initiative. We had a chance to interview our friend Josh Richards, with the Humane League Chicago.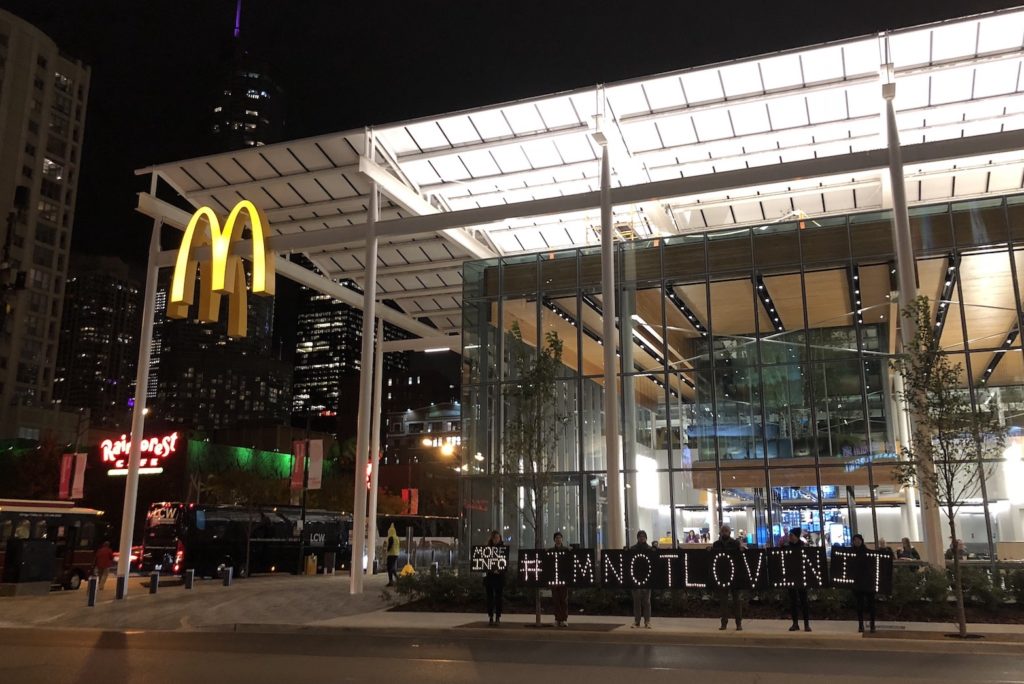 What are the issues? Didn't McDonald's say it was going to improve its animal welfare?
In October 2017, McDonald's released a policy detailing "improvements" it would implement for chickens in its supply chain, but the policy lacks meaningful reforms needed to address the most pressing animal cruelty problems — reforms which dozens of other major chains have adopted. Not one animal protection non-governmental organization (NGO) has supported McDonald's policy. It has, however, received praise from industry insiders, such as Tyson and Cargill.
…the policy lacks meaningful reforms needed to address the most pressing animal cruelty problems — reforms which dozens of other major chains have adopted.
As a result of McDonald's refusal to address some of the worst abuses of chickens in its supply chain (related to breed, space, and environmental enrichments), The Humane League is leading the largest campaign in its history against them as part of a nationwide effort to convince the fast-food giant to produce a basic welfare policy for the chickens in its supply chain. As noted, The Humane League is part of the first-ever U.S. coalition of  animal protection charities, including Animal Equality, Mercy For Animals, Compassion in World Farming, World Animal Protection, and Compassion Over Killing, in our united ask for McDonald's to implement meaningful animal welfare standards to reduce the suffering of chickens in its supply chain.
2.  Tell us the specifics about this campaign.
The McDonald's campaign falls under The Humane League's broader 88% campaign. Each year in the United States, more than 9 billion farm animals are raised and killed for food, and approximately 88% of those animals are chickens raised for their meat. The 88% campaign focuses on addressing the worst abuses faced by these chickens.
Each year in the United States, more than 9 billion farm animals are raised and killed for food, and approximately 88% of those animals are chickens raised for their meat.
Specifically, The Humane League and the broader coalition is asking McDonald's to commit to:
Transitioning to a healthier breed of chicken. Currently, McDonald's chickens grow so large so quickly that they suffer from a host of chronic and life-threatening illnesses including leg-deformities and organ-failure. For a bit of perspective, a bird today is marketed at more than twice the body weight and reared in half the time as 50 years ago.
Providing more space for chickens to live and move (currently they are crammed into cramped sheds, forced to live in their own waste which can lead to chemical burns from the high levels of ammonia).
Providing birds enriched environments including litter, lighting, and other enrichments that meets basic standards (currently McDonald's policy addresses these enrichments in an ambiguous or weak manner).
McDonald's chickens grow so large so quickly that they suffer from a host of chronic and life-threatening illnesses including leg-deformities and organ-failure.
These asks are based on credible scientific research from third-party researchers who determine the best welfare policies for broiler chickens. These findings have been utilized by other restaurants, food service providers, and even producers to enact reforms in their supply chains.
Our staff and volunteers are carrying out the McDonald's campaign nationally with a combination of on-the-ground actions as well as various online actions. We campaign aggressively and relentlessly with our focus always being on having the greatest impact we can for animals.
Some helpful resources for more information on the campaign:
Truthaboutmcdonaldschicken.com
3. Other companies have made changes to address animal welfare like Burger King, Subway, Aramark and Kraft Heinz. They all have committed to improving the welfare of chickens and giving the birds more space by 2024. Why hasn't McDonald's? What about the argument that if you use slower-growing chickens, it would just mean MORE chickens would need to be raised and killed to satisfy demand?
This is the question many of us are asking. McDonald's has far more financial resources than its direct competitors and has publicly stated its commitment to using its scale for good, but on this issue they have fallen way behind. Hundreds of thousands of consumers (not to mention animal protection organizations and animal welfare experts) have spoken up, but unlike the other companies mentioned McDonald's has refused to listen.
With regard to the second part of the question, we are concerned only with the welfare outcomes of the breed, not the growth rate. The reality is that there will likely be some reduction in growth rate because the outcomes are so connected to fast growth, but the hope is there may be a yet-undiscovered breed that grows more quickly than traditional slow-growth birds while meeting our welfare standards.
We are also concerned with the number of animals being raised and killed for food in general. We believe the number of birds overall needs to be reduced in addition to their welfare being improved. The Intergovernmental Panel on Climate Change (IPCC) released a report in 2018 stating that the quantity of meat being consumed must be massively reduced and farming techniques must be changed in order to guarantee our planet's future ability to support humanity. Billions of chickens suffering immensely on factory farms is simply not sustainable.
4. What is the goal? What do you want McDonald's to do?
We are asking McDonalds to commit to and publicly share a basic chicken welfare policy that meaningfully addresses the concerns outlined above. This would affect hundreds of millions of chickens, so if McDonald's truly wants to use their scale for good there is virtually no better way for them to do so.
5. Have you made any progress with McDonald's?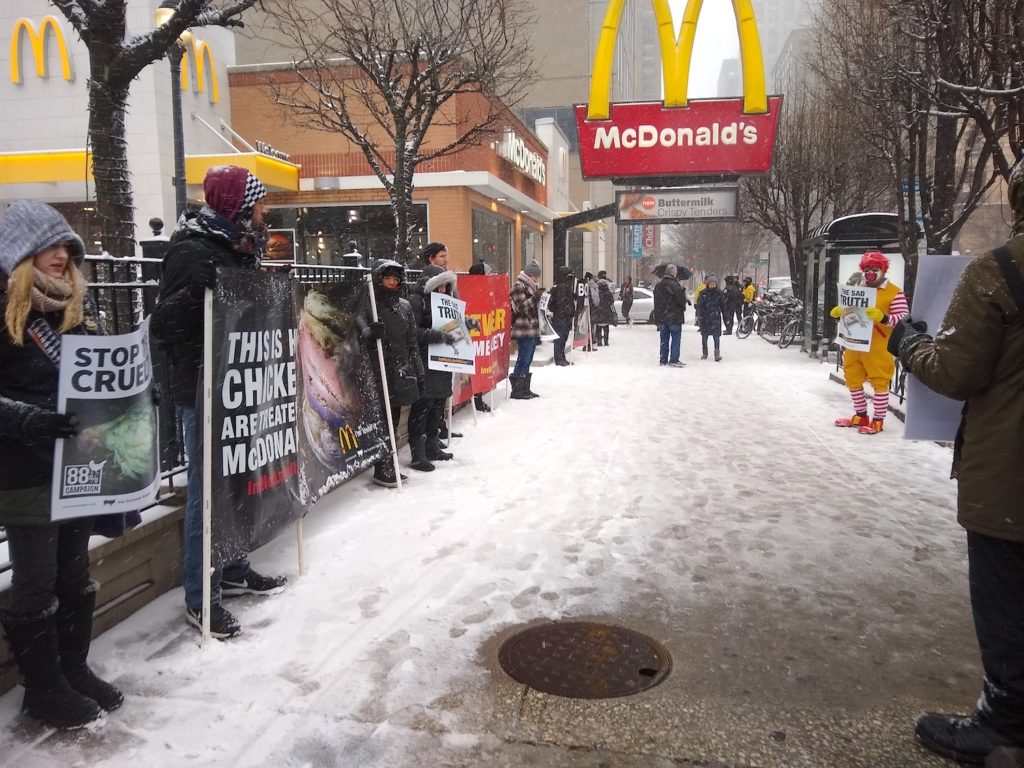 We are utilizing tactics that have proven successful in the past, but have also implemented several innovative new strategies and are constantly thinking creatively about the best ways to convince McDonald's to do the right thing.
Over 280,000 consumers have signed a petition in effort of this campaign and we're trying to leverage this customer support to see if McDonald's will once and for all adopt the animal welfare standards their customers are demanding. We're also building off of the momentum in the industry led by some of the largest chains, including Subway, Burger King, and Starbucks, which have already adopted these standards. And while we haven't received a direct response from McDonald's, we have gotten feedback from employees outside of the HQ in Chicago which is one of the benefits of our presence in there.
We are thoroughly committed to continued progress in our campaign which we believe will ultimately convince McDonald's to catch up with their competitors and do what's right.
6. What are some different ways that people can help the cause?
A very easy way people can get involved is to check out ImNotLovinIt.com and carry out some of the actions provided there (including signing the aforementioned petition).
But it is also very important for Chicago-area residents to understand that we have additional power in this campaign because McDonald's headquarters is located in our backyard (the West Loop specifically). Not only do we need people in our community to make their voices heard by reaching out to McDonald's executives, signing petitions, and doing social media actions, we need people to come out to events and ultimately we need leaders in the community to help bring more people onboard and carry out even more actions.
We provide training and resources to anyone interested in taking on a leadership role or just getting involved generally, and we really work to build a community where we can all work together to accomplish big goals. We know that Chicago doesn't accept animal abuse, so we must work together to make sure McDonald's knows this.
How you can help
Anyone interested in doing more for this campaign or for farm animals generally in any capacity (large or small) should reach out to me directly at

jrichards@thehumaneleague.org

. To keep tabs on what we are up to, make sure to follow us on Facebook where we list all of our events. You can also join our Chicago mailing list by emailing me and asking to be added.
7. What's next for the campaign?
We will be ramping up our activities in Chicago this spring and summer. We will have many exciting things going on in the next few months alone and these will be announced soon – so stay tuned because we will need as much help as we can get!
Josh Richards Bio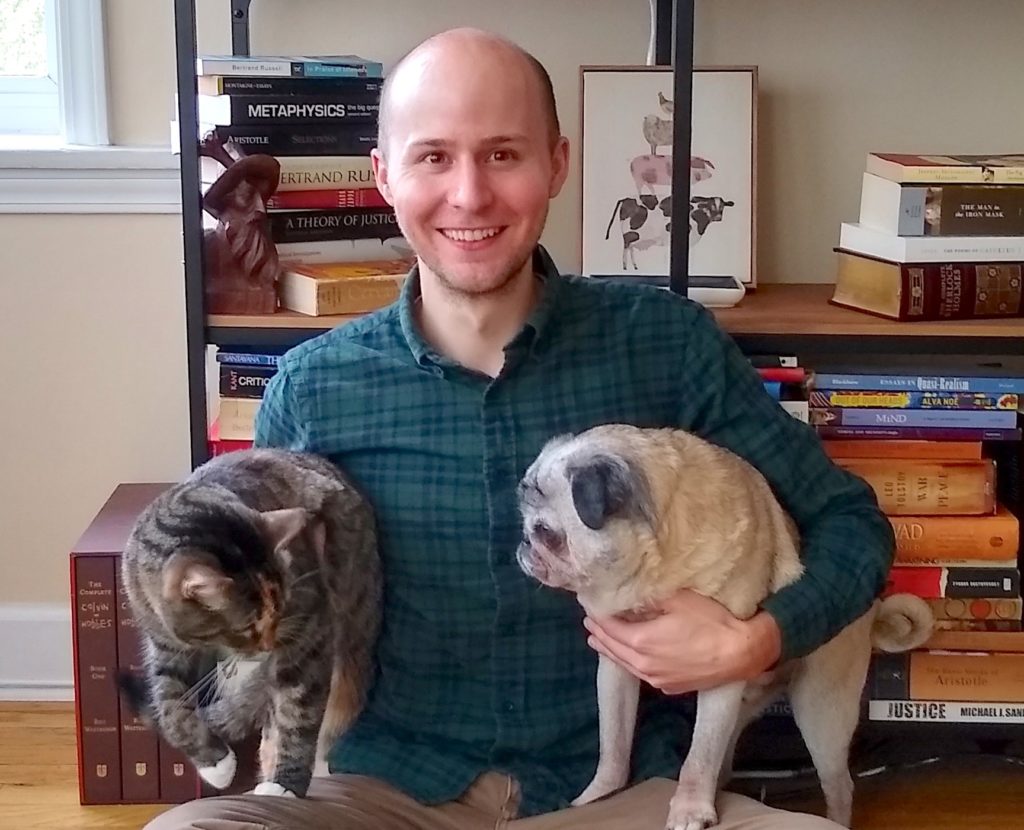 Josh Richards is the Chicago Field Organizer for The Humane League where he works to build a grassroots community in the Chicago-area, train and empower future leaders in the animal protection movement, execute institutional campaigns, and perform general outreach and education. Prior to coming to The Humane League, he worked in grants and contracts administration at Northwestern University and the University of Virginia. He has a degree in philosophy from the University of Wisconsin – Milwaukee and shares his home with his cat Margo and dog Samson.
About the Author:  Lisa Lubin is an Emmy-award winning video consultant, producer, writer and photographer.She's a life-long animal lover from New Jersey who's been living in Chicago for 20+ years. Lisa has also volunteered PAWS and Feline Friends Chicago as a cat foster. She joined the Crate Free USA team in August 2016 and is now the executive director, website editor, and volunteer coordinator.