The state of New Jersey is poised to be the 11th state to ban the use of gestation crates (and the 13th state to ban some form of confinement for certain farmed animals). Crate Free USA has joined an important coalition of other animal welfare organizations including the Humane Society of the United States, World Animal Protection, Farm Forward, and the Animal Legal Defense Fund (ALDF) supporting this crucial legislation.
The proposed bill would ban "gestation crates" and "veal crates," and allow mother pigs and veal calves enough space to turn around freely, lie down, stand up, and fully extend their limbs.
As bills like this gain momentum, it clearly demonstrates that consumers are becoming more educated on where their food comes from and they are demanding an end to these cruel confinement practices.
Bill in NJ to Ban Gestation Crates 
The bill introduced in New Jersey (A5236/S3401) would ban the cruel confinement of mother pigs in gestation crates as well as newborn calves in veal crates.
You may remember that similar legislation to outlaw gestation crates in New Jersey in recent years overwhelmingly passed not once, but twice, only to be vetoed by former Governor Chris Christie, despite bipartisan backing of residents and lawmakers. Polling has shown that 93% of New Jersey voters support a ban on the extreme confinement of mother pigs.
Ensuring that the cruel confinement of pigs and calves is prohibited in New Jersey is a matter of animal cruelty prevention, and also a proactive step in safeguarding public health and reflecting consumers values.
Do you live in New Jersey or know someone who does? Please share this post and take action to ensure this bill is passed.
What are gestation crates and why should they be eliminated? 
Due to the duration and severity of their confinement, pigs in gestation crates suffer among the worst abuse in all of industrial farming. For several years, they are confined to crates that nearly immobilize them, enduring a cycle of repeated impregnation. Gestation crates are approximately two feet wide and seven feet long—so small the animals can't even turn around or take more than a step forward or backward. Because the pigs can barely move, they suffer muscle and bone damage.
Being caged like this also often leads to mental trauma. Pigs are active and curious and have been compared to dogs. They can feel happiness, sadness, grief, and pain. In fact, pigs are highly sensitive animals and depressed when confined to cramped spaces and mistreated. And because these intelligent animals are denied any mental stimulation, many become neurotic and engage in repetitive coping behaviors, such as constantly biting the metal bars in front of them. One alternative to crates is crate-free "group housing," which allows animals to move around and socialize.
Veal crates immobilize baby calves in similar ways to gestation crates. Within just days or even hours of birth, calves raised for veal are permanently separated from their mothers and put in cages so small the calves can barely move. Denied any social enrichment, physical and mental stimulation, or a relationship with their mother, stressed calves routinely engage in stereotypic behavior.
Where else are gestation crates banned?
Currently, 12 states have some level of anti-confinement language banning battery cages for hens, gestation crates for pigs and/or crates for veal calves. Ten U.S. states, Canada, and the EU have outlawed cruel gestation crates. Similarly, nine U.S. states have banned veal crates.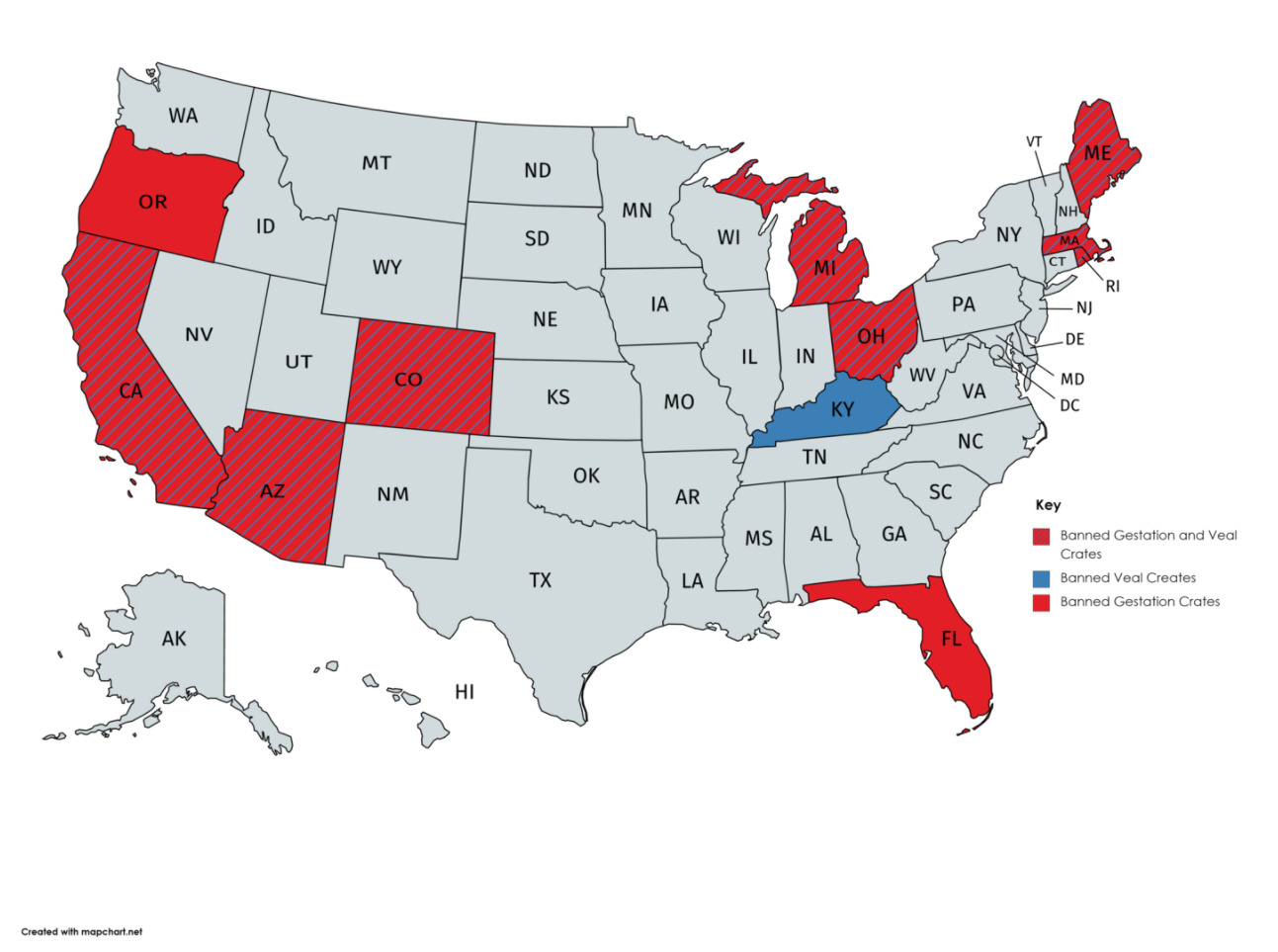 States with Passed Legislation Banning Crates for Pigs & Calves
Ten states (Arizona, California, Colorado, Florida, Maine, Massachusetts, Michigan, Ohio, Oregon, Rhode Island), Canada, and the E.U. have already banned gestation crates.
Nine states (Arizona, California, Colorado, Kentucky, Maine, Massachusetts, Michigan, Ohio, Rhode Island) have banned veal crates.
One of the most recent laws with the greatest impact is known as Proposition 12 in California. Prop 12 not only prohibits the cruel confinement of veal calves, breeding pigs, and laying hens, it is very important in that it bans the sale statewide of ANY products from systems (within OR outside of California) that do not meet these standards. Considering that California is the fifth largest economy in the world, its impact for animals cannot be overstated.
Corporations Doing the Right Thing
McDonald's, Burger King, Wendy's, Carl's Jr., Tim Hortons, Sonic, Kroger (target date of 2025), Kraft Foods, Safeway are just some of the companies that are increasingly moving way from the use of crates in their supply chain.  Costco has pledged to do so although they use huge suppliers like Smithfield and JBS who still use them for several weeks of pregnancy. In fact, we launched an on-going campaign and petition asking Costco to remove them completely from their supply chain.
What else can be done?
Work still remains to be done in the rest of the country. The hard part is getting states with much higher numbers of intense pig "factories" on board. After China, the U.S. is the world's second-largest producer of pigs. But our pork industry is not evenly distributed. It is concentrated in a small number of states mostly in the Midwest and North Carolina. The five states where most pigs are slaughtered are Iowa, North Carolina, Illinois, Minnesota, and Missouri.
Nearly one-third of the nation's hogs (20 million) are raised in Iowa, where hog farming alone represents $7.5 billion in total economic activity for the state, according to the Iowa Pork Producers Association.
What many don't realize is that today there are fewer farms, but due to the intensification of pork farming, each factory farm houses more pigs tightly packed in each facility. At least 69 percent of pigs raised in Iowa are kept in farming operations (CAFOs) with 5,000 or more pigs.
We are proud to be a part of this coalition and will be working hard to create awareness and educate consumers about legislation to ban crates not only in New Jersey, but in other states and by other producers in the near future.
Do you live in New Jersey or know others who do? Please share this post AND take action to contact your state senators to ensure this bill is passed.
Author Bio:
Lisa Lubin is an Emmy-award winning video producer and consultant, and writer and photographer. She's a life-long animal lover from New Jersey who's been living in Chicago for 20+ years. Lisa has also volunteered at PAWS and Feline Friends Chicago as a cat foster. She joined the Crate Free USA team in August 2016 and is now the executive director, website editor, and volunteer coordinator.