Crate Free USA recently partnered with World Animal Protection for a survey conducted by The Harris Poll, a market research and global consulting firm and one of the longest running survey firms in the U.S. Harris surveyed more than 2,000 Americans of varying incomes and demographics about their pork buying habits, focusing primarily on opinions around the use of gestation crates and the practice of tail docking.
The majority of Americans who participated in the poll resoundingly showed concern for pig welfare and hold retailers accountable.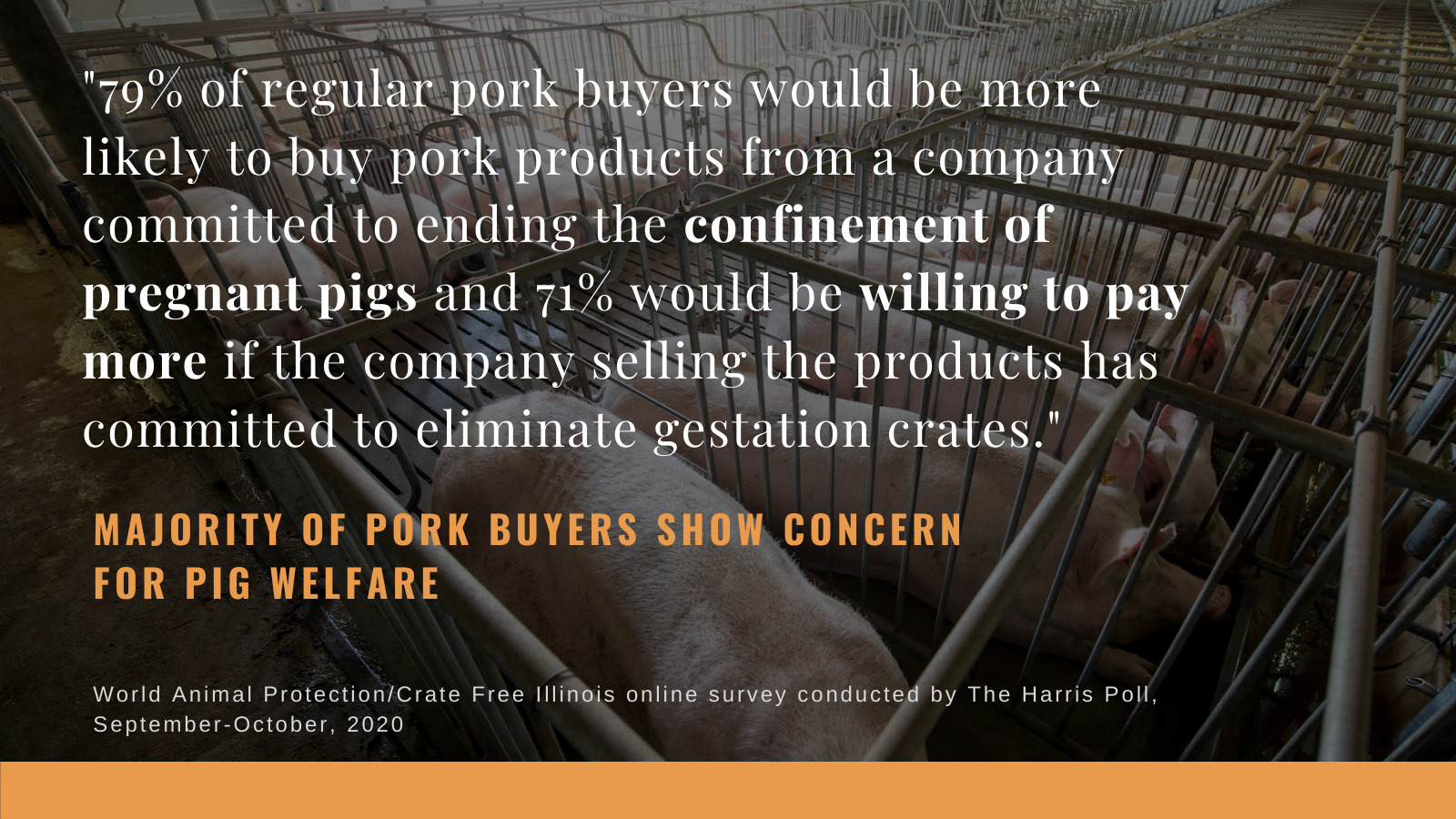 Respondents said they were more likely to buy pork from retailers committed to ending the use of gestation crates and tail docking. Across different incomes, genders, age or race, most regular pork buying Americans (defined as those who purchase pork at least 2-3 times per month) find the use of gestation crates for pregnant pigs and the practice of tailing docking on piglets objectionable.
According to the survey, gestation crates are viewed as unacceptable by two-thirds of Americans (66%), and a strong majority (73%) are more likely to buy pork products from companies committed to ending their use than from one that is not. Tail docking is also seen as unacceptable by just over half (56%) of Americans, and 62% of Americans think retailers and restaurants have a responsibility to ensure the cutting of piglet tails is not done by their pork producers.
The survey examined opinions and buying behaviors around common practices used by pork producers and showed concern around farmed animal welfare runs high and is not limited to one type of buyer.  You can see a larger presentation of the findings here.
"It is encouraging to see such strong concern among the public for the animals raised for our food. It is clear that companies cannot continue to bury their heads in the sand and must make progress on animal welfare to remain competitive," said Cameron Harsh, Farming Campaign Manager, World Animal Protection, US. "In fact, a majority of regular pork buyers are more likely to change buying behavior based on a company's commitments. The pork industry has continued to fight unsuccessfully against the protections for pigs set by Proposition 12 in California. But this survey clearly shows that demand for stronger protections is not unique to California or any one region; the country as a whole will no longer accept these cruel practices."
Retailers Like Aldi Should Listen to Their Shoppers' Concerns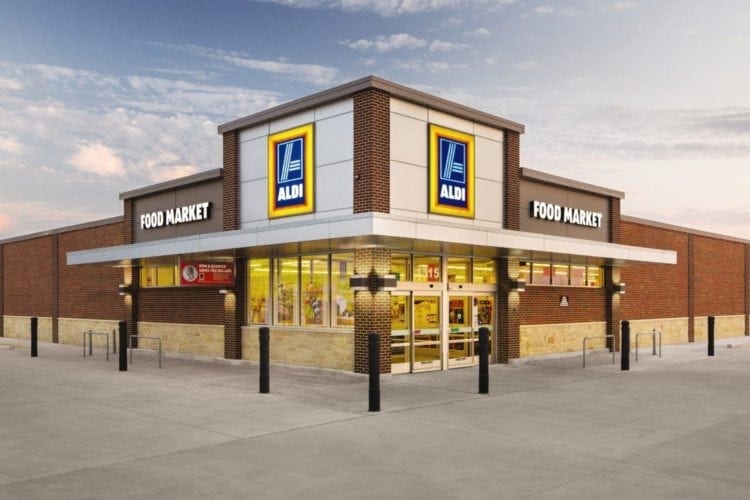 These findings sound a cautionary alarm to retailers in 2021 that they can better serve their pork customers, and improve brand perception, by committing to end the use of gestation crates and tail docking.  The survey results should be of interest to more cost-conscious stores like Aldi — one of the few retailers who have yet not committed to ending gestation crates.
Historically Aldi has targeted middle class and cost-conscious shoppers. You can see in this chart that the most frequent Aldi shoppers have annual incomes between $40,000-60,000 and $40,000-$80,000, income groups that, according to the survey, found the use of gestation crates highly objectionable.
Some say "a good way to think of Aldi is as Trader Joe's for the working class" or like a smaller Costco. But nowadays a lot more Americans are pinching pennies causing Aldi's customer base to grow rapidly. According to industry analysts, Aldi is on track to be the third largest grocery chain by the end of 2022, giving the chain a tremendous opportunity to make a positive difference in the animal agriculture supply chain.
Aldi Pivots to Target More Affluent Customers
This article in the National Retail Federation from August 2020 specifically points out how Aldi is pivoting to also target more affluent (upper middle class) customers — a group historically outspoken on animal welfare. They say that Aldi, which is a corporate sibling to Trader Joe's, has changed its strategy since opening its first store in Iowa 44 years ago. The original plan was to serve lower income communities. In the last 10 years, however, as traditional U.S. grocers learned to compete with Aldi on price, Aldi has been upgrading its offerings to appeal to more middle-class shoppers.
"This survey teaches us that the desire for more humanely raised pork products is important to shoppers regardless of income level and background − and they're willing to change their buying behavior accordingly," said Jessica Chipkin, Founder and President of Crate Free USA. "This is an important learning for the cost-conscious retailers who are slow to commit to ending these practices because they feel it is not relevant for their customer base. We've long felt that eating more humanely raised products should not be a privilege reserved for higher income groups. Hopefully, these findings motivate more retailers to mandate their pork suppliers meet higher animal welfare standards."
About the Author:
Lisa Lubin is an Emmy-award winning video consultant and producer, and writer and photographer. She's a life-long animal lover from New Jersey who's been living in Chicago for 20+ years. Lisa has also volunteered at PAWS and Feline Friends Chicago as a cat foster. She joined the Crate Free USA team in August 2016 and is the executive director. She lives on Chicago's northside with her favorite feline, Bug.