At Crate Free USA, our mission is to improve the lives of animals raised for food. And we work hard to take a very pragmatic approach to this. Ideally, we'd like everyone to change his or her eating behavior in the following ways: Reduce meat consumption, reject factory farm products, or replace meat with a plant-based diet.
Don't do nothing because you can't do everything.
If you are consuming meat, we highly recommend getting it from a local, humane source. It's why we created our mobile app, to help make it easier for you to buy only humanely raised animal products from truly local and sustainable farmers who care about the animals they raise.
In the meantime, we are focused on the here and now. Every day factory farmed animals are suffering by the millions.
Animals shouldn't have to suffer every day to feed people. 
Corporate Outreach
We are currently focusing some of our grassroots efforts on corporate outreach. Last year, we had huge success in petitioning Trader Joe's to remove gestation crates from their supply chain. After garnering nearly a half a million signatures on our Change.org petition, we flew to California and met with some of Trader Joe's management.
Thanks to the support from all of you who signed the petition and made it known that you wanted more from Trader Joe's, our push ultimately led to the store announcing they'd be phasing out gestation crates entirely by 2022 for many of their pork products. They've already begun the process and a majority of their fresh pork products now crate free.
Aldi Needs to Eliminate Gestation Crates
So now we are optimistic about the recent launch of our new retail campaign to Tell Aldi to Go 100% Gestation Crate Free. Gestation crates are widely recognized as cruel and inhumane as they confine a mother pig for most of her life in a space so tiny it's roughly the same size as her body, so narrow she can't even turn around.
Grocery store chain @AldiUSA still sells pork from mother pigs raised in tiny crates. @cratefreeIL wants the grocery store chain to go crate-free by 2022. pic.twitter.com/I2XLSDH2IW

— Change.org (@Change) August 2, 2019

Why Aldi?

So why Aldi? Right now, Aldi (headquartered right here in Batavia, IL) is on track to be the third largest grocery chain in the U.S. by 2022. They're in the midst of rebranding as a retail outlet for healthy and organic food. They promote sustainability and just announced an initiative to eliminate plastic packaging.
They even have a dedicated animal welfare section on their website that states animals should be allowed to "express innate behavior."  Well, we think there's nothing "innate" about being locked in a crate so small that an animal can't even turn around.
Yet, unlike almost every other major retail retailer, they have no plan to eliminate gestation crates.
Why is this so important?
We say it all the time − as consumers, it's on us to hold producers and retailers accountable for the welfare of the animals they profit from. Regardless of our personal eating choices, we all need to make sure the animal food industry – dairy, pork, poultry, veal and beef – knows that consumers care about how the animals raised for food are treated.
Our Change.org petition, which specifically addresses the use of gestation crates, now has nearly 300,000 supporters, clearly reinforcing what we already know: Consumers care about animal welfare.
Aldi is one of the few major retail grocers that has not committed to a plan to phase out gestation crates. COSTCO, Safeway, Trader Joe's, Walmart, Kroger and most other major chains have committed actions to end the use of gestation crates in their supply chains.
Did you know that @AldiUSA sells pork from mother pigs confined in tiny crates?

Join @CrateFreeIL in calling on the grocery chain to phase out gestation crates by 2022: https://t.co/7KiIhiLkFp pic.twitter.com/mNabme1fDw

— Change.org (@Change) August 17, 2019
Extreme Confinement is Inhumane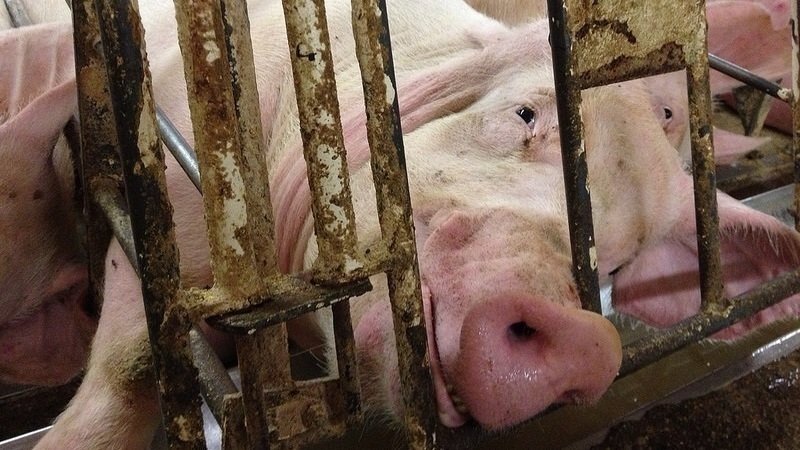 Crate Free USA believes that the extreme confinement of farmed animals is inhumane and that there is growing market intolerance for these kinds of practices. Retailers need to be accountable for the welfare of the animals from which they benefit.
We are optimistic that Aldi will be receptive to this since they promote sustainability and have an animal welfare section on their website that states animals should be allowed to "express innate behavior."
Aldi tells us they are the kind of organization that listens to its community, its customers. We hope that holds true for animal welfare practices.
Consumers want to shop their values and many believe that gestation crates are cruel and outmoded. Please hear us and commit to phasing out this cruel practice you still allow in your supply chain.
Sign the Petition and Tell Aldi to Go Crate Free
If you haven't already, please sign and share our petition and urge Aldi to commit to a 100% gestation crate free supply chain by 2022.
Talk to your Aldi manager. Call or email Aldi and tell them you want them to go 100% crate free.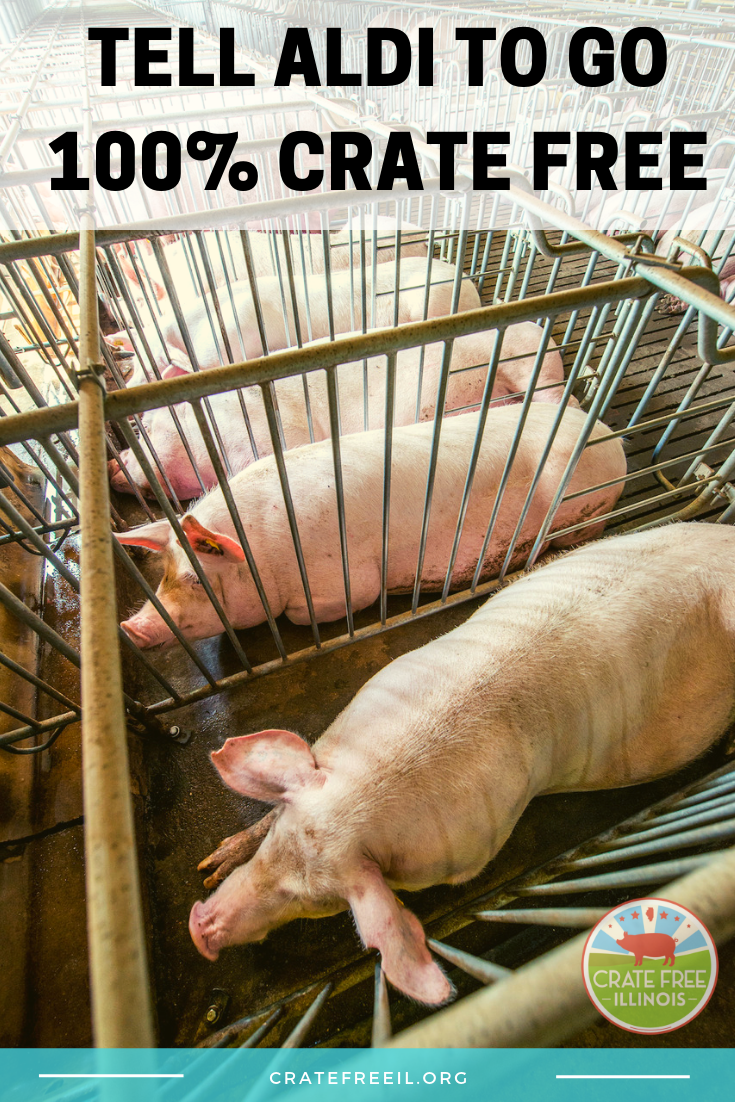 About the Author:  Lisa Lubin is an Emmy-award winning video consultant, producer, writer and photographer. She's a life-long animal lover from New Jersey who's been living in Chicago for 20+ years. Lisa has also volunteered at PAWS and Feline Friends Chicago as a cat foster. She joined the Crate Free USA team in August 2016 and is now the executive director, website editor, and volunteer coordinator.